Speechnotes Chrome Extension
Speech recognition on ANY website
Language & Options Page
Here is the link to the extension's options page after it's installed. It's important as it's where you can choose your dictation language.
SpeechnotesX Options page link
(active after installation, bookmark if necessary)
Instructions
(1) After installation, on the options page, Allow microphone permissions when asked,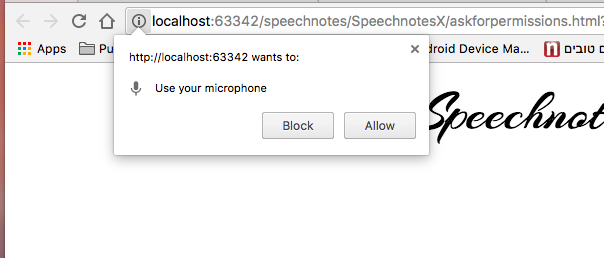 Or click on the button on the page if not asked.
(2) Select dictation language from the select box above. To switch language, come back to the options page (bookmark if necessary)
(3) First time only: restart Chrome.
Meet the Only 2 Buttons You Need to Know
Speechnotes has only 2 buttons added to your Chrome. They are both functioning as start / stop voice recognition.
(1) Microphone button right to the Chrome's address bar.

(2) In any text-field, right-click on the mouse, and then, in the drop-down menu: "Start / Stop Recording"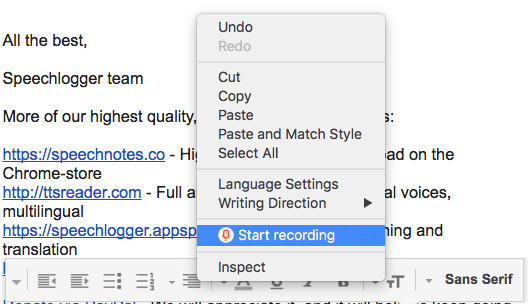 To start or stop voice recognition
Place the caret in a text-field you want to type in, and click on one of the 2 buttons introduced above. The microphone button next to the address bar will turn red. Start dictating. That's all. No more typing! As simple as that.
Buy Now
No hidden costs, no recurring subscription. Purchase for life, including all future upgrades.
Please Share